"I came out with two projects picked up by producers who had been a tutor and mentor – and who both won Oscars during the course.  So I guess the benefits of the course and the quality of the training go without saying." – Patrick Woodward
WE ARE RECRUITING FOR NEXT FEBRUARY'S STORY DEVELOPMENT & MARKETING SCHEME
If you have sent application materials we will do our best to respond to you within 3 days.  If you have NOT sent materials, please do so ASAP (your chances of an offer improve, the earlier you apply).
CLICK THIS LINK FOR application requirements.
We are running half-day workshops as a key part of the assessment/interview process.   They will run on:
Tuesdays, either 10.30am – 1.30pm, or 2pm – 5pm.
These will take place at the BFI Southbank, Belvedere Road, London SE1 8XT.
If you are shortlisted for one of these workshops we will attempt to let you know with as much notice as possible.
"If it wasn't for those contacts, I wouldn't have the career I have today."– Julio Bonet, Development Exec, Locksmith Animation.http://www.locksmithanimation.com/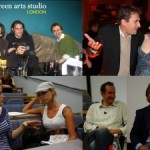 There is a £50 fee for this workshop.  Numbers are capped at six, maximum, and you will receive detailed feedback on your major project from the director of the SAI or other industry mentor.  The fee is redeemable against, either, the offer of a bursary or the offer of a fee-paying place on our programme.
We have just two full BFI-supported bursaries available at this time and we routinely receive over a hundred good applications for this programme.   Bearing this in mind, you should investigate alternative sources of funding for your programme should you be offered a place.   See the link at
the top (and bottom) of this page for a full outline of the programme, including fee details.
We are particularly respectful of those filmmakers who fund some or all of their own fees.  It is our experience that those who have personally invested in their career development often get most from what we can offer.  Our programmes are for talented professionals wishing to advance their careers – not students.
If you cannot afford the fees, do investigate the various Creative Skillset bursary schemes and the Professional and Career Development load system (The SAI is an approved provider).
https://www.gov.uk/career-development-loans/overview
http://creativeskillset.org/news_events/news/4370_want_to_develop_your_career_or_grow_your_film_business
And check our website for other information.
Best wishes,
Steve
Stephen May – Director, The Screen Arts Institute