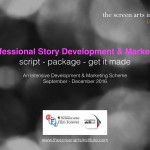 Aimed at writers, directors, writer/directors, creative producers, script editors
Runs September 2016 to January 2017.
to story develop – script – package and sell a feature-length project or long-form TV show.
working hand-in-hand with industry.
culminating in a market, pitching direct to producers, distributors and agents.
Filmmakers will develop their work:
through script meetings/outlines/treatments –
they will draft or redraft their screenplay –
they will produce a business package to accompany their script-
and they, and their project, will be introduced to sales agents, distributors, cinema exhibitors and producers.  Our regular collaborators include:
Film4
Warner Bros
NBCUniversal
Working Title Films
BBC
HBO
Participant Media
Plan B
Curzon/Artificial Eye
ITV Studios
Programme Outline:
A 4 month scheme for filmmakers to develop – script – package and take to market a feature-length film or long-form TV show – working hand-in-hand with the best in the industry.
The Scheme allows for 4 months of industry interaction and includes:
x 76 half-day masterclasses, script meetings, and networking events (flexible timing with mentor for script meetings, & Skype contact available)
guided script development & scripting by SAI's team of premiere producers
an industry market – January 2017.
The programme will enable the highest level of professional script and business development and take those projects direct to market.
March/April 2016 Successes from our Schemes include:
Bogdan Mirica, "Caina" accepted at Cannes,
Un Certain Regarde
Stella Meghie, "Jean of the Joneses" US/Canada release
and CAA representation.
Zara Meerza picked up as associate producer by Warp Films
Alexander Brown, principal photography in Norway
on debut feature
Timetable:
Half day workshops will run on Mondays and Wednesdays
at the BFI Southbank
10.30 – 1.30
2 – 5pm
September 7th to December 14th 2016
An Industry Market will take place in January 2017 at the BFI
There will be x 16 industry visits on separate dates during this time
(varied times and locations)
The programme is designed for busy professionals – as such
script meetings with mentors are on a flexi-schedule and can be
arranged by mutual agreement.
Many workshops can be "attended" by Skype – workshop materials
and resources are available online and by email.
SAI Mentor Team:
The SAI is the preeminent organisation working with the British Film Institute (BFI) to nurture emerging talent, working hand-in-hand with industry.
The Director of the SAI is Stephen May.  Stephen is an actor, writer, director and producer who has worked with the best on both sides of the Atlantic – Cate Blanchett, Hugh Grant, Julianne Moore, Plan B (Brad Pitt's company), Participant Media (Spotlight, The Big Short), NBC Universal…
The SAI is led and inspired by many of the most influential practitioners in our film industry.  they include: Tim Bevan (Co-chairman, Working Title Films), the writer/director Hossein Amini, the director Oliver Parker, the senior executives of the Curzon/Artificial Eye group etc.
The SAI works in association with, and is endorsed by, the BFI and Creative Skillset (the government body responsible for supporting talent within the film and TV industries).
The main sell of this scheme?
guaranteed access to industry (producers, distributors and sales agents)
highest level script and business development process and mentoring (SAI team 
includes many Oscar and Bafta winners)
proven success  (previous participants on SAI schemes have sold projects and won commissions/employment with Disney, Fox, Artificial Eye, Channel 4, BBC eOne.)
four months of industry and peer networking
cast iron deadlines for delivery of scripts and production packages
fierce competition for places (12 max) creates immediate industry interest and guarantees highest calibre of peer support
Applications
There is no formal deadline for applications, but places are limited to 12 in each calendar year.  We will interview/workshop all shortlisted applicants; but you must send us these materials, below, to be shortlisted in the first place.
They must include:
a one-page outline for the project,
a one-page business plan (budget, distribution and marketing plan)
ten pages of script (if available)
a CV of relevant professional experience.
The applicant that we perceive to be most deserving of our support (talented, committed, personable, developing a great feature project) will recieve a full SAI bursary worth £5,000 (The SAI bursary for September 2016 is no longer available.)
Fees
Full fees for the programme are £4,990
CLICK THIS LINK TO MAKE YOUR APPLICATION
IF YOU HAVE ONLINE PROBLEMS, then you can contact: stephen.may@thescreenartsinstitute.com
Check out industry and filmmakers at last year's Film Market – Tim Bevan, Warner Bros, NBCUniversal.
Video:  SAI Film Market at BFI, Tim Bevan, Hossein Amini and others discuss the SAI
Participant Comments:
"I came out with two projects picked up by producers who had been a tutor and mentor – and who both won Oscars during the course. So I guess the benefits of the course and the quality of the teaching go without saying." – Patrick Woodward, screenwriter
"The SAI has been an amazing experience.  I am a professional Script Editor and so story theory is something that I work with every day and the SAI, headed by Steve, manage to find new ways of opening my eyes on how to approach story.   The creative writing exercises are second to none, and the fact that I don't have to try and script edit my own work, and let other people do it for me, has been absolutely priceless.  I can't recommend it enough for any filmmakers out there…" – David P. Davis (Script Editor, Dr. Who, and now SKY Atlantic.
"I couldn't encourage SAI enough to anyone. It's rare to find such a positive environment for professional, creative growth with peers and mentors as experienced as the ones I've encountered.  As a documentary filmmaker the move towards fiction has always been a daunting thought. With the help of Stephen May and my fellow filmmakers I've been able to develop the dramatic potential in the stories I care about while working towards writing my first screenplays for TV and Film.  There's no better programme for getting you in the room. In my time with the SAI I've work-shopped, shared and developed my ideas with the leaders of the industry gaining valuable feedback and contacts that will continue to inform my work for years to come." – Zara Meerza, producer/director "Marfa, Texas" – and, while on the SAI programme, has secured an Associate Producer's role at Warp Productions.
"The SAI programme has surpassed my high expectations.  The structure and support are superb and I'd recommend the SAI programme to anyone ready to take their next step in filmmaking.  Stephen May and all mentors and contributors are top industry professionals. This is a privileged position to be in.  A fantastic programme for people who learn from DOING."-  Jacob Perlmutter, photographer/musician/filmmaker http://jacobperlmutter.com/home.html