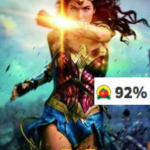 Is the power of Rotten Tomatoes good for diverse indie filmmaking?
Could be.
Critics' scores are driving ticket sales rather than the audience scores and their "word of mouth". And the collated Critics response tends to favour strong storytelling, originality and risks in film grammar. Just check the films that have scored 100% over the years and you'll see what I mean.
https://en.wikipedia.org/wiki/List_of_films_with_a_100%25_rating_on_Rotten_Tomatoes
Just to show how important an issue this is for the studios, Warner Home Entertainment bought Flixter (which had bought Rotten Tomatoes) and Rotten Tomatoes in 2011.
In February 2016, Fandango (the online ticketing service) bought Flixter and Rotten Tomatoes from Warners, but Warners retained an equity investment and will be a "strategic partner".  And, to further the Gordian knot, Fandango is owned by NBCUniversal!
But, hey, let us filmmaking types celebrate the independence of the Critic! Wow – never thought I'd say that.
Resources link (below) for "Le Gout des Autres" which scored 100% on Rotten Tomatoes in 2000 and was nominated for the Best Foreign Film Oscar.
https://drive.google.com/drive/folders/0B412JdBEKStSUXJkWi1GMnc5Z2s
Buy tickets to riff off "Le Gout des Autres" at Get Your Movie Made – Classic Cinema workshops at BFI, Summer 2017.
https://www.eventbrite.co.uk/e/get-your-movie-made-classic-cinema-workshops-for-filmmakers-tickets-34239390940?aff=erelexpmlt
Further info on Rotten Tomatoes and marketing strategies:
http://variety.com/2016/digital/news/fandango-rotten-tomatoes-flixster-1201708444/
https://news.slashdot.org/story/17/06/01/1711247/movie-studios-are-blaming-rotten-tomatoes-for-killing-movies-no-one-wants-to-see
http://variety.com/2011/film/news/warner-buys-flixster-rotten-tomatoes-1118036371/
https://www.vox.com/culture/2017/6/26/15873242/wonder-woman-box-office-record
SIGN UP HERE FOR FREE RESOURCES