You've got a movie to sell… now how do you get it to market?
These half-day story development & marketing workshops with the producer/writer Stephen May, director of The Screen Arts Institute, are designed to help you do that.   The two "strongest" projects will attend the SAI Film Market in April 2018 and filmmakers will pitch direct to the likes of Warner Bros, NBCUniversal, Film4, Working Title Films etc.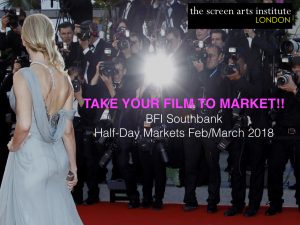 WHEN?     Wednesday afternoons 2 – 5pm
Groups are limited to 6 filmmakers maximum.
The facilitator is the producer/writer Stephen May, Director of The Screen Arts Institute.  In 2017, his alums won a BAFTA, an Oscar and were responsible for the most successful indie movie of the year ("47 Metres Down").
(These workshops are, also, a stepping stone to the year-long programmes that The Screen Arts Institute runs.  We are recruiting now).
If you want to get your movie or TV show made… join us.
MATERIALS TO SEND IN ADVANCE:
Email the following:
1. A logline and one-page pitch of the major project that you wish to develop/market. (600 words max. Use Courier 12pt)
2. An example of your screenwriting (any length but it must be a piece of fiction). And, If you are a director/producer – an example of a completed film/TV project (vimeo link or similar).
3. A CV of your educational background and all relevant professional experience.
EMAIL YOUR MATERIALS to: stephen.may@thescreenartsinstitute.com
PARTICIPANT QUOTES:
"Stephen has a unique ability to hear things that aren't spoken, the subtext of the problem, and then provide unexpected, spot-on solutions." – Ola Rychlicka

"I've read every book and pretty much been to every event from Bafta events to London-based film festivals where there are Q & As and lectures etc and other screenwriting workshops .  This (the SAI workshop) was honestly the best kick up the arse I have got, and the most insightful and most professional. I got exactly what I needed, quickly efficiently and professionally. Thanks." – Grant Taylor (writer/director – http://www.granttaylordirector.com/
SUCCESSES:
– Ernest Riera (Stephen May alum, and now Mentor with SAI) wins the rights to "Hearts of Atlantis" by Stephen King. And his feature "47 Metres Down" is the highest grossing indie in 2017. Ernest will write and produce "Hearts of Atlantis" with director Johannes Roberts and Fyzz Productions
– Babak Anvari (a Stephen May alum, and now Visiting Mentor) sells "Under the Shadow" to Netflix, and wins BAFTA for Best First Feature, Feb 2017
– Bex Harvey (Stephen May alum) wins Oscar for writing Sing, Best Live Action Short, 2017
2016/17 was a bumper year for SAI. We had 22 features in intensive development. Three already have cornerstone finance and co-producers attached – we are healthily confident that a handful will go to principal photography within 12 months. See, below, for some of our successes during 2016/2017.